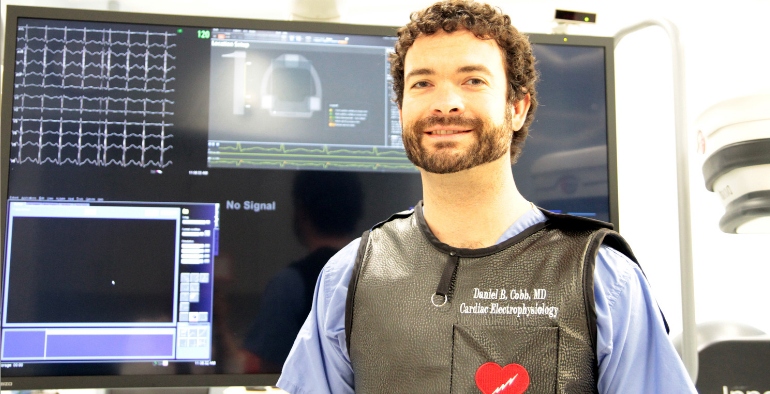 Within St. Joseph's/Candler Physician Network – Cardiology is the subspecialty of electrophysiology.
Our team of specialized electrophysiologists (EPs) uses the most advanced technology to detect, diagnose and treat arrhythmias and other heart rhythm issues. They specialize in a variety of minimally-invasive procedures including implantable devices like pacemakers, radiofrequency cardiac ablation, cryoablation and the Watchman – a device that closes off the left atrial appendage and reduces a patient's risk for stroke.
The heart has electrical impulses that cause it to contract and relax, which helps the heart pump blood to the body and vital organs. Abnormal electrical impulses cause the heart to beat too slowly, too fast or irregularly. These electrical heart rhythm abnormalities are called arrhythmias and are extremely common.
With the rise in arrhythmias and atrial fibrillation – a type of arrhythmia – St. Joseph's/Candler created the Advanced Heart Rhythm Center dedicated to offering the latest technologies and collaboration among the region's best heart specialists. Our cardiologists that specialize in electrophysiology are:
Request an Appointment with an Electrophysiologist
Request an appointment with our electrophysiologists quickly and easily by filling out our online request form.
Make an Electrophysiology Appointment