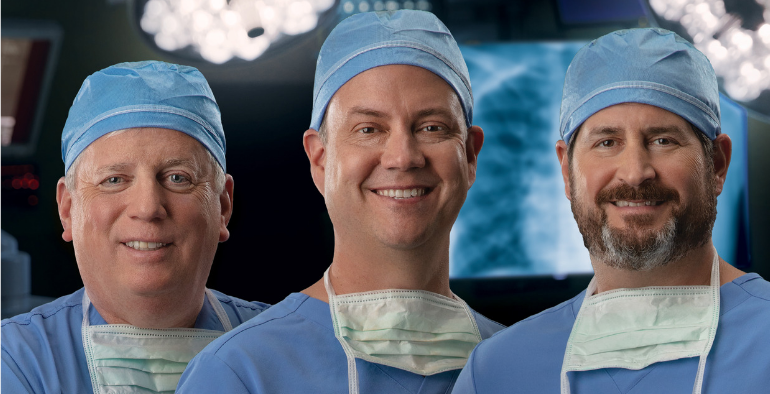 St. Joseph's/Candler Physician Network – Cardiothoracic Surgery has access to state-of-the-art technologies and services combined with the experience of four fellowship-trained, board-certified cardiothoracic surgeons.
Dr. Marc Bailey, Dr. Robert E. Jones, Dr. Jeremy London and Dr. Andrew Papoy anchor St. Joseph's/Candler Physician Network – Cardiothoracic Surgery. They have the most experience in the region when it comes to cardiothoracic health. Cardiothoracic surgery is the field of medicine involved in the surgical treatment of the organs inside the thorax, particularly the heart and lungs.
In addition to procedures, our cardiothoracic surgeons perform open and minimally-invasive vascular surgery to treat hardened or blocked arteries. These experts are able to remove cancerous tumors with smaller incisions with the advanced technology of robotic surgery. For other complex cardiovascular conditions, such as aortic stenosis, these specialists provide specialized care with the Transcatheter Aortic Valve Replacement (TAVR) procedure.
Some of the other services provided by these cardiothoracic surgeons include:
Robotic-assisted thoracic surgery
Minimally-invasive thoracic surgery
Lung and mediastinal operations
Cardiovascular surgery, valve repairs/replacements
Coronary artery bypass operations
Thoracic aortic aneurysms
Thoracic cancer clinical trials
Interventional bronchoscopy
Our cardiothoracic surgeons are:
Request an Appointment with a Cardiothoracic Surgeon
Request an appointment with one of our cardiothoracic surgeons quickly and easily by filling out our online request form.
Make a Cardiothoracic Surgeon Appointment